Have you all heard of Movember? Perhaps you are reading this and thinking that not only have you heard of it, but you are participating too? If so, please send a picture because who doesn't love a good moustache? If you haven't heard of it, Movember was created to bring awareness to men's health issues such as prostate cancer, testicular cancer, and mental health. Men are encouraged to join the movement by growing their own stashe for the full 30 days of November! There are other ways to bring awareness and opportunities fundraise for charity by registering on Movember.com. You can read more about it here!
Thank you Ron Swanson, er I mean Nick Offerman for setting such a good example!

(source)
And here is a MUST WATCH video about the effort (more where that came from!)
Ok, now that you are aware of Movember you are beginning to wonder if this is still a decorating website where where you can find exciting home decor and related ideas? Well, yes it is! So let me begin the round up then shall I? Some of the most furry, hairy, "movember-ish" pieces of furniture I could find! Beginning with this one I saw at the ICFF this past May! It was quite eye-catching and I've been saving this one until now :)
Designed by Sentient, Brooklyn NY
Look at the back of that! It even looks like a stash :)
Not only is this piece of furniture appropriate for Movember, it is also right on trend. There have been lots of write ups of using animal prints, hides, and especially hair on hide like this. The furrier the better. If you are in the market I recommend you start looking for vintage sources, which is obviously better for the animal. There are also plenty of faux options coming out that you can start with there. For other great products on the market here are some examples.
Also from Sentient this Caribou Lounger
This interesting layered stool made from sustainably sourced wood, fur, and found objects.
via Trendhunter.com
Furry Accents
Mini Mooo Cube via Indigo
Sheepskins are classic and easy to put anywhere. They are a great addition to rooms especially as the weather is getting colder. Ikea sells faux sheepskins if you are interested in buying one.
via Pinterest
In the bedroom it's such an easy way to add luxurious texture while keeping things very simple and elegant.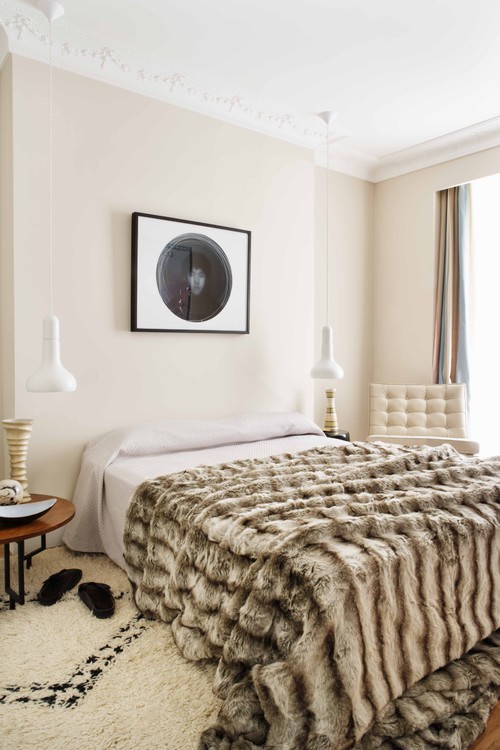 This second one even has an animal hide floating headboard that is a great idea!
For the furry family
Via Google
And even furry floors, of course use your discretion when choosing which floors!
Well I feel all warm and fuzzy after look at all these pictures! I hope you have enjoyed seeing them as well. Remember Movember please!
Cheers!
Send an Email | call 973.944.0188 | like us on Facebook | Follow us on Pinterest | Talk on Twitter
You can now sign up for our monthly email newsletter by clicking here!!