Sometimes when writing these blog posts I like to include relevant topics to conversations I've had or projects I'm working on. Today's post is about bedroom pillows because, well simply put, we are in the market for some new ones stat! After spending some time last week in a hotel it became apparent that I can no longer sleep on the ones we have. Nada, no more. I changed the sheets today and couldn't even bring myself to put the pillow cases back onto the old pillows.
Our upgrade will more than likely be a functional one as we still have some nice shams and pillow covers. But if you are in the market for some new pillows and you'd like to refresh the look of your room as well, here are some ideas for different ways to arrange them on your bed.
I think that all these arrangements above are nice and easy to work with. In general I would say that Euro shams provide a more contemporary look since they are square, compared to their standard rectangular counterparts. Mixing them together though is a nice way to add some variety.
Here are some pictures that demonstrate nice pillow decor...
This one mixes euro and standard pillows. I like the graphic punch of the accent pillows with a purple neck roll.


Traditional Bedroom by Opelika General Contractor Stone Martin Builders
This one uses the same fabric on the headboard as the long roll pillow. A pop of matching yellow is pulled out for the back layer, and a soft blue pulled out to layer in front of that.

Traditional Bedroom by Atlanta Interior Designer Cristi Holcombe
Check out this comfy tufted headboard! Black provides a sleek accent color and is softened with the gold and white of the bedset. I like the use of a matching graphic pillow as one of the layers.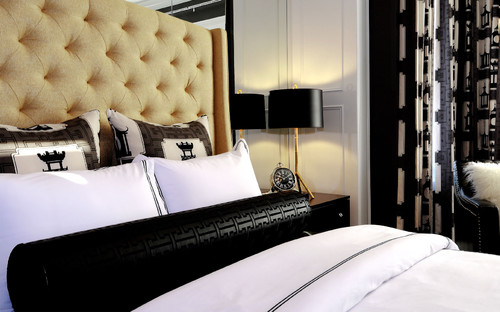 Contemporary Bedroom by Saskatoon Interior Designer Atmosphere Interior Design Inc.
Lots of layers in this bedset - the cute little round accent pillow in front centers the look and adds a soft touch with the ruffles.

Traditional Bedroom by Morganville Interior Designer Marina Klima Goldberg - Klima Design Group

Crisp white linens are paired with neutral browns for a simple contemporary look. Mixed euro and standard pillows works well to add interest when using mostly white.