I think many homeowners are becoming savvy about curtains and know that hanging panels high and wide makes their windows look bigger and lets in more light. I've shown several options how to do this and how to layer with blinds in this previous post here.
But what if you can't find curtains the right length in a color or pattern you like? Or what if you already bought a pair you like but now realize they're too short? This post will address a few creative ways to lengthen the curtains you already have or find affordable fabric alternatives.
These first few ideas show adding fabric somewhere on the panel and if you are handy at all you could do this yourself. The best way is with a sewing machine but sometimes you can use no sew tape instead.
Extending Fabric On the Bottom
Using a matching color from the pattern for a color block that goes to the floor below.
Posted by Shelterness
This adorable panel for a little girl's room mixes polka dots and stripes with pom pom trim between.
Posted by Nanny Goat
Here they added white fabric to the bottom of these shower curtains. Then continued the same fabric pattern for the very bottom. The DIY instructions are in the link below.
Posted by Migonis Home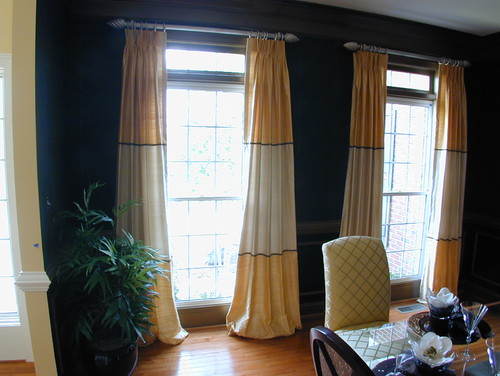 This one plays with proportion and adds a large color block in the middle of each panel with narrow contrast trim between fabrics. This really adds interest to these tall windows.
Extending Fabric On Top
Depending on the room and what you want to emphasize is where you can add detail. Here the bottom is covered so they brought a Waverly fabric in matching charcoal gray towards the top. DIY is in the link below.