Last week was a really fun week for design and business! I attended a design conference and met other members of theInterior Redecorators Network that I am part of. I learned so many good business tips and even more decorating ideas. One day of the conference we went to the New York Design Centerand after an information session we toured the beautiful showrooms. There was so much to see I'm already making plans to go back again! There were too many favorites to name but one of the showrooms that really stood out to me was Global Views. They carry a lot of home accessories and had beautiful vignettes set up by color. It was a really impactful way to organize the showroom and each vignette was beautiful on its own.
(Photo I took at Global Views - stunning vignette of black, white, and gold)
I think vignettes like this one above are a really nice way to add some interest to your home decor too. If you have collections you'd like to display or personal mementos that you'd like to share this is a great way to showcase those. Not to mention how well these work with holiday decor! So I thought I'd share a few tips for creating vignettes in your home.
1- Define a Collection

A collection begins with a grouping of 3 or more items. Edit the collection to showcase the best and most meaningful so they don't become clutter. Each vignette should tell a story about the items, afterall the word vignette means "a short scene in a movie or play."
(From Scandinavia with Love)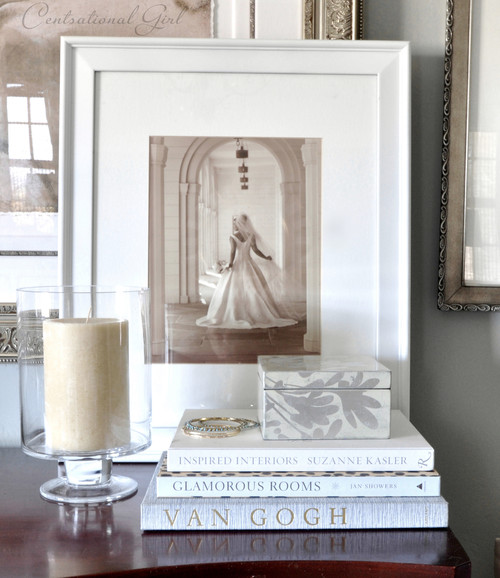 2- Think Scale
This is something that kept coming up in conversation at the conference too, it's easy to get consumed by lots of "little" things. Don't forget to vary the scale and think BIG to add some height and interest to bring your eye around the room!
3- Focal Point
What exactly are you trying to highlight? Is there something in the vignette that is the focal point? Or this the vignette serving to highlight a larger focal point such as a picture, mirror, or view from a window?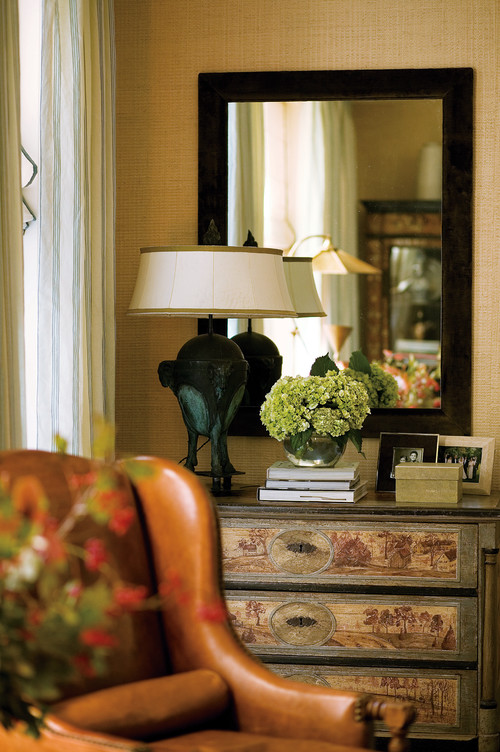 4- Theme
Try picking items for a vignette that are related or have a theme. The theme could be a similar color palette (limited to about 3 colors like this bookshelf below), a holiday, a travel memento, etc. The possibilities of a theme are endless but you are trying to tell a story of why these items are here.
(HGTV article)
5- Balance
Design is all about balance, bright & dark, soft & hard, organic & geometric. Try to mix in varying elements such as material and shape into each vignette so there is a balance and interest throughout. In this vignette they have soft round shapes, spiky round shapes, tall cylinders, and it's softened with wisps of flowery branches.
(Here is another photo I took at Global Views)
I hope these ideas helped inspire some good looking vignettes in your home - just in time for the holidays too! If you'd like help decorating your home, don't hesitate to ask me a question!
Cheers!
Send an Email | call 973.944.0188 | like us on Facebook | Follow us on Pinterest | Talk on Twitter
You can now sign up for our monthly email newsletter by clicking here!!